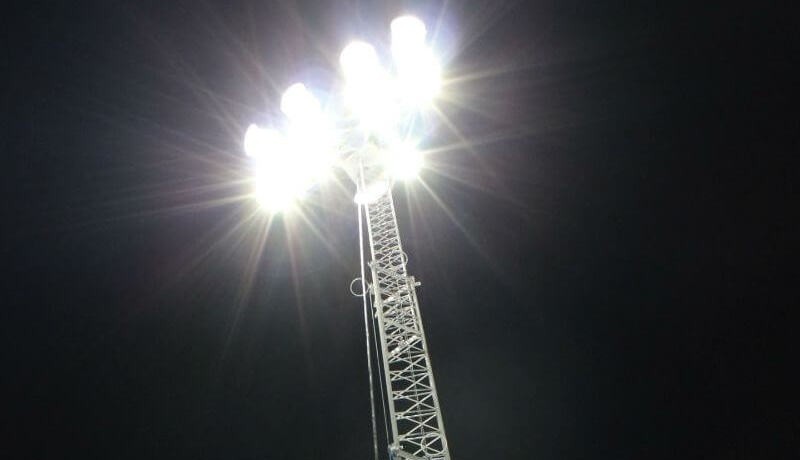 MOBILE AND PORTABLE LIGHT
AllTech manufactures a variety of mobile and portable light tower solutions that provide the proper portable lighting for any requirement.
AllTech portable light tower systems are used throughout the world for illuminating all types of locations including parking lots, emergency areas, construction sites, highways, sports fields, community events, airports, mountains, film locations, mining and drilling operations, and more.
They say imitation is the sincerest form of flattery….
Well, we are very honored that the rest of the mobile and portable lighting market is copying our products.  However, we continue to improve our design and products to stay one step ahead of the competition.
With our Distributor in Canada, Canada Towers, Alltech mobile towers saw extensive use in the oil fields of Canada as portable lighting that provided unsurpassed light coverage in the oil fields.  Today, Alltech now offers both traditional metal halide mobile and portable light towers for portable lighting which can provide over 27,000 watts of light to remote sites and new energy efficient LED mobile and portable light towers that that can provide portable lighting which exceeds the lumens of the traditional metal halide at a fraction of the operational costs.
Ranging from 12 feet to 72 feet tall,  AllTech's portfolio of portable light tower systems not only provide more portable lighting coverage to your remote site, but provides such light with significantly reduced glare and eye fatigue encountered with other portable light tower systems.  The result is a safer, brighter and more efficient work site.
In addition to providing light, the AllTech mobile and portable light tower systems are designed to be able to simultaneously provide communication and security to your site.  Communication radios and antennas along with PTZ or 360 degree cameras can be easily mounted to the tower to provide communication and surveillance 24/7 on site.
Business Hours
Our support Hotline is available 24 X 7
(918) 576-0000
Monday-Friday: 8 am to 5 pm
Saturday & Sunday: Closed